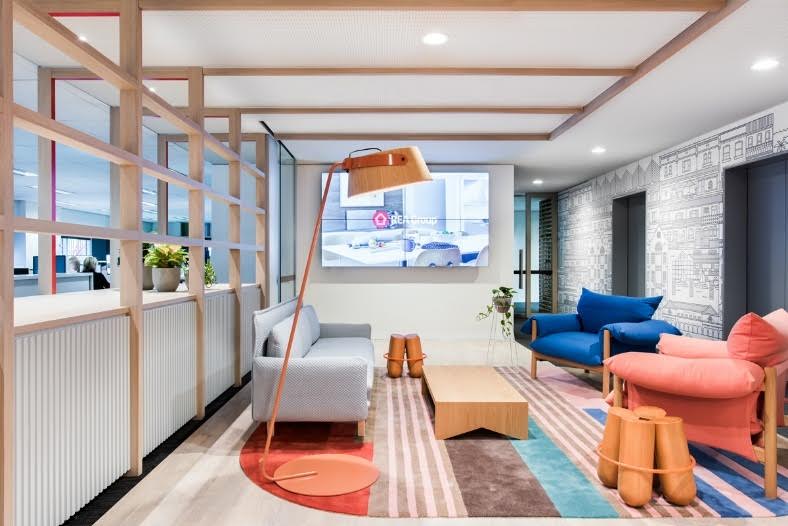 REA Group has moved its Sydney headquarters into a new 950 sqm 'home-styled' office, mirroring what the company does best in connecting people and homes.
Designed by leading interior and architectural design firm Futurespace, the new REA Group Sydney office is sectioned into the same kind of rooms you would find in a home.
Managing Director of Futurespace, Angela Ferguson said, "The values of REA Group are reflected throughout the office in line with its residential nature and focus."
"When you move through the office, you go from the living room, to the greenhouse, games room, workshop space, and dining room, while taking in the stunning harbour views," Ms Ferguson said.
The office also reflects a distinct Sydney style home with coastal themes, a casual lifestyle feel, combined with the buzz of the CBD.
"The office is much less corporate and much more a space that looks and feels like a quintessential beach side Sydney home that you would expect to see for sale on realestate.com.au," added Ms Ferguson.
Incorporated into the new coastal 'home-styled' office, is an innovation hub which showcases REA Group's new technology and innovation.
"This home also has a space that showcases the latest technology with an innovation hub that has the latest in virtual reality, augmented reality, 3D printing and its other emerging technologies," Ms Ferguson said.
REA Group has also had to update its office to accommodate its growing number of employees and to create more room for collaboration.
Executive General Manager Media, REA Group, Libby Minogue said: "Our growing workforce needed a new office that really reflected the innovative culture of our company with space to think, spaces to create and spaces to connect. Now that we've moved in, we couldn't feel more at home."
"We've aimed to create a great work environment that inspires our people to put more energy into their work, bounce ideas off each other and collaborate," added Ms Minogue.  
REA Group has also adapted to a new agile way of working with lockers provided for staff, sit to stand desks throughout the office, and spaces for open team meetings.
Other design elements implemented in the office include a café space overlooking Pyrmont and Barangaroo, a new welcoming reception and video technology to connect the office with other REA Group offices across Australia and internationally.
About Futurespace
Futurespace is a cutting edge interior design and architectural agency leading the way in creating the future spaces in which people will work, learn and live. Futurespace believes that people are the product of their environment and designs and creates future focused, intelligent and practical physical spaces that enhance people's lives and businesses. www.futurespace.com.au
About REA Group Limited: (www.rea-group.com): REA Group Limited ACN 068 349 066 (ASX:REA) ("REA Group") is a multinational digital advertising business specialising in property. REA Group operates Australia's leading residential and commercial property websites, realestate.com.au and realcommercial.com.au, Chinese property site myfun.com and a number of property portals in Asia via its ownership of iProperty Group. REA Group also has a significant shareholding in US based Move, Inc and PropTiger in India.